Sometimes when life is extra crazy and stressful the littlest things can bring so much happiness. You know what I mean? And while this week has been raaaather on the stressful side (Think 40 hours of work in the first 4 days of the week, and editing software that has decided it hates me right during my busiest season. Peeerfect) I have still found several points of happiness this week, and decided in honor of it being Friday, I would share them.
The first and probably the happiest thing is that MY BROTHER FINISHED HIS LAST FINAL ON WEDNESDAY AND WILL BE HOME THIS MONDAY. And so, I'm kind of excited about this. And also kind of sort of EXTREMELY proud of him. And I can't wait to hug his amazing self.
As if that weren't enough, last Saturday I got to go see
Tim Hawkins
LIVE. For those of you who don't know who that is, I'm sooo sorry. You are missing out on alot of laughs. The whole experience was pretty much epic. I went with two friends and in a crowd of 600 we were sitting right smack in the middle about 5 rows from the very front. And I have to admit, that when he walked out onto the stage to the cheers of everyone in the place I was busy grabbing my friends arm and pointing while screeching in my best 12 year old voice "I see him! I seeeee him!"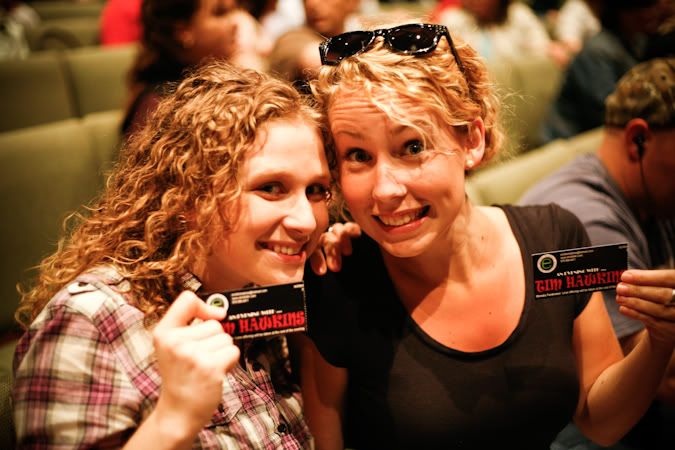 The evening was made even more amazing by the fact that at the end of the show he started throwing twinkies out into the crowd and the very last twinkie he opened up took a big bite out of it and then threw the other half into the crowd. And you better believe I caught it. Aaaand I got a hug from him, a picture with him, and his autograph. That euphoria from that event definitely carried me through alot of this week.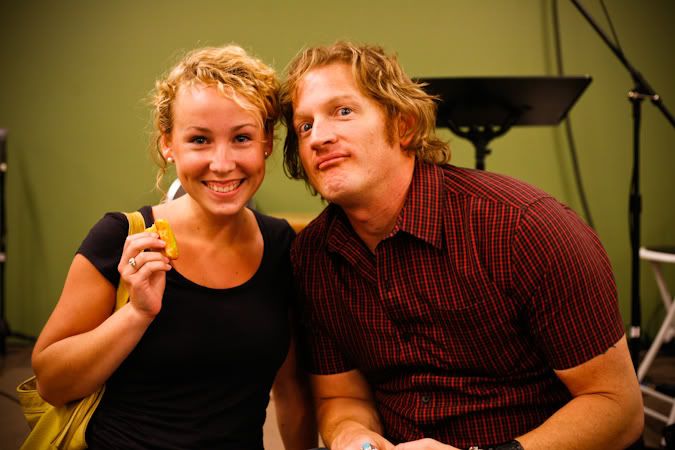 Yes, I do in fact realize that I look like a geeky retard in this picture. But,
I was standing next to TIM HAWKINS
. How else could I look??? And yes that is definitely a half eaten twinkie in my hand. I still have it in fact, I'm trying to think of something creative to do with it. Any ideas? Because I obviously can't be wasting some of Tim Hawkins saliva.
I found this song yesterday and listened to it about 6 times . . . it is just SO cute. I love it, and I smile every time I listen to it.




And to top it all off my weekend started last night because I'm in E. Texas all weekend with good friends for a friends graduation.
There really is so much to be happy about. I'm busy. Doing the work I love. And I just have to say that living at home with with my favorite people around me all of the time is pretty awesome. I mean, who wouldn't want their work interrupted randomly by hugs and kisses from their littlest sister? And spur of the moment Happy Hour runs with them are, well, pretty happy :)
I hope y'alls weekend is amaaazing and I'm going to leave you with a teaser for a wedding that I'm working on editing right now.
Much Love.
Jessica Shae