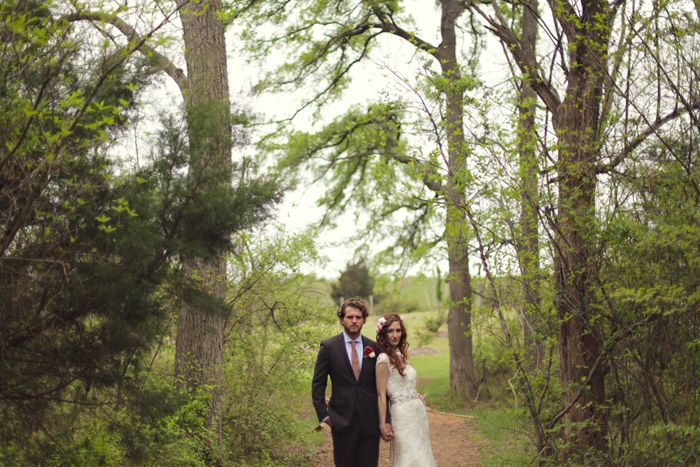 Daniel and Kate's April wedding was my first of the year, and there couldn't have been a lovelier wedding with which to start this wedding season.

(Plus it was at the same wedding venue where I got married--which made it extra special!)

Early on in her engagement Kate watched "Seven Brides for Seven Brothers" and loved it so much that she wanted her own wedding day to have a similar feel to it. (As a side note, I've somehow never seen that movie, so after the wedding had to look it up to see where her fabulous inspiration came from. After seeing her wedding party and this picture I think she nailed it) Their wedding invitations invited friends and family to the wedding ceremony of the "pure beauty" Kate, to the "ruggedly handsome" Daniel, with a picnic and dancing to follow. And that's exactly what her wedding was, a colorful, old fashioned, sunday afternoon picnic + ice cream, spring wedding and celebration. Like the kind of party you'd have after a barn raising ;)
Their handwritten vows to each other were my favorite part of their intimate ceremony. They made me cry and were perfect examples of their love for Christ and their commitment to love each other as Christ has called them to love. I couldn't help but include a few excerpts from each of their vows.
"...I vow to pray unceasingly for you, to hold you and your calling in high esteem. I vow to help you, encourage you, comfort and counsel you, and to kiss you everyday. I will never forsake you no matter what storms may come. I vow to protect our unity with a fiery zeal. I vow to keep our home as a sanctuary, built on harmony and truth. I vow to love and serve you over my own wants and needs..."
"...I vow to love you when everything in my natural man does not know how to, to choose loving ou over my own needs, wants, and feelings. I vow to always be patient and treat you with kindness. I vow to proclaim your beauty to you with every new sun rise. I vow to be as steady as the horizon and solid as a rock during all seasons of our life together. I vow to build a house for us that is built upon a foundation of faith, hope, and love...I vow to grow old with you and give you all of me until I depart from this world."