All growing up, going to the library was a routine part of my life. About every two weeks we'd all load up in our big van--Me, Benjamin, Rachel, Luke, Sam, Lawson, Emma, and of course Mom--and head to the public library. Mom would have to put time limits on how long we'd be spending there, because if left to our own devices we'd have been happy to stay all afternoon. Checking out always took forever, because between all 8 of us, we'd usually have about 70-90 books to check out, and when I was a little kid they still did the whole hand-stamp-the-inside-of-the-book-before-you-could-check-it-out thing. The librarians hands were cramping by the time they were done with us. And then my little brother used to complain that when the receipt for our books started printing it was embarrassing because people would stare when it started to roll off the desk and hit the floor. He finally got wise to the fact that if he got his own library card he could check out on his own and then act like he had no clue who the weird large family checking out 273 books all together was.
And then there was the problem of having to find a new library about every 10-12 months, because we'd read everything out of the kids section in one library and start complaining to mom that we wanted to find new books to read.
I realize what you're thinking.
Because books still really excite me. I could easily spend my whole paycheck on books, and still not have all the books I want. (someday I'm going to have a room in my house with floor to ceiling bookshelves, and one of those ladder things that slides back and forth;) And trips to the library...? Are still the highlight of my week/month/or however often I get to go. Problem is, with traveling so much, working so much, and just generally becoming addicted to work like I did this year, the amount of books I've read has gone waaaay down. And I miss it. So as part of my cutting-back-on-work-so-I-can-start-enjoying-real-life-again-campaign I went to the library a few days ago, checked out a few books, rounded up a few from home that I've been wanting to read for a while, some for the 2nd (or 3rd) time, and created a reading list for the month. ;)
I'm excited about being a nerd again ;)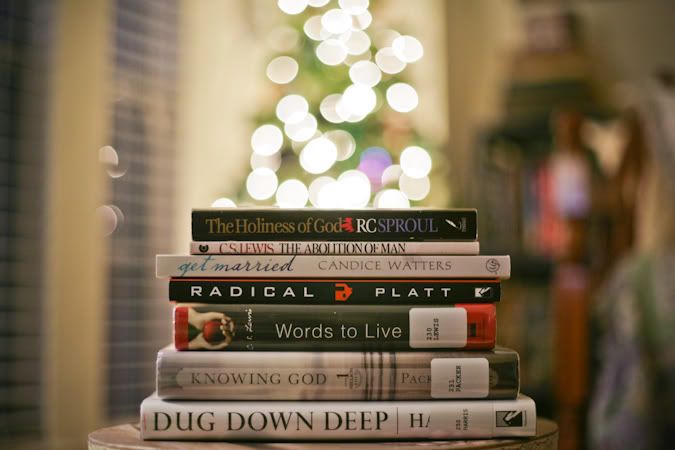 (not pictured--the Narnia series. It's becoming Christmas tradition for me to read them every December)
p.s. I'm always up for a good book recommendation. Anyone read a good book (fiction/non-fiction) lately? I'd love to hear about it in the comments section! :)