I love Summer so SO much - that sometimes I dread when it's time for it to go away. It's not that I dislike Fall, I just like Summer alot more. And while everyone's statuses for the last few weeks have been filled with pleas for Fall to get here quickly, I have been secretly praying against all of them,
and hoping Summer would hang on a little bit longer
;)
Today, I said a happy little hello to Fall.
I just couldn't help it, it was sneaking in so nicely. I woke up to 68 degree slightly cloudy weather, every window in my house is currently open and there are the happiest little breezes blowing through my room as I type this. Who could be grumpy with a nice "hello, so good to be back!" like that? I'm pretty sure I might have waved a little wave back. . .
And I think there might have been one more little incentive for me to be happy about the coming of Fall. It starts with the same letter as the season and ends in "ootball" ;) Because guess what happens tomorrow?!
College football starts! And guess what I like possibly just as much as Summer?
The Texas Longhorns
. Especially when they're playing football. I'm pretty sure my love for them is just a part of my genetical make-up (is that even a term?? Pretty sure I just made that up. All you doctors out there--listen up, you might want to add that to your medical books ;) because my grandfather and both of my parents graduated from UT, so to not cheer for them would be to dishonor the family name. Not that I'm complaining about having to cheer for the greatest team in all of college ball--oh no!
So tomorrow I will be donning all of my burnt orange apparel, and heading over to the grandparents, where there will be some serious game watching and food eating going on (because the two go hand and hand of course.) In order to cheer well, you have to keep your strength up with good food that grandmothers are so good at producing. ;)
And for those of you who (are not from the south) and don't understand the passion that emanates from us "southern folk" when it comes to our football, I'm gonna need you to watch this. I nearly cried when I first watched the video--and that's totally embarrassing to admit, I know. But if you don't understand us before you watch it, I'm pretty sure you will once you're done. I love my boys of Fall ;)
I took this picture with my iphone last night while watching my own little "Boy of Fall" play in his first game of the season.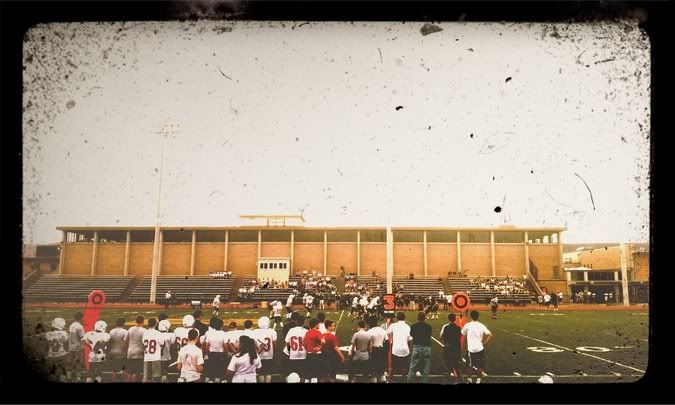 And while this afternoon I'm sure I'll have to shut the windows and turn on the air, and I still have plans to continue working on my tan for the next few weeks, and squeezing out just a little bit more of Summer happiness, I'm going to join the masses and say: I think I'm getting excited about Fall, and what this next "bend in the road" will bring. :)