This morning I sat out on our back porch and carefully picked shards of glass out of my purse, the whole time thanking God that the glass had imbedded itself in the lining and contents of my purse, and not in my body.
Saturday afternoon I was on my way to East Texas for a portrait session when I got in a very serious car accident. I was driving 70 mph down a country highway when someone going the opposite direction turned onto a crossroad right in front of me. It all happened so fast, I saw him coming but assumed that he was going to stop and wait for me to pass before he made the turn, and when I realized at the last second that he didn't see me and wasn't stopping I slammed on my brakes and turned away from him, knowing that hitting him was inevitable, but trying to minimize the accident as much as possible. I slammed into the front end of his truck (probably going about 55-60 mph at that point) my car flipped onto its side and slid down the road, then began to roll as soon as I hit the grass. My airbag deployed, my front windshield shattered (but didn't fall in), and the entire front end of my car was mutilated.
"And the

Lord

, He is the One who

goes before you

, He will be with you,
He will not leave you nor forsake you; do not fear nor be dismayed."
duet. 31:8
"...the glory of the

Lord

shall be your rear guard Then you shall call,
and the Lord will answer; you shall cry, and He will say,

'Here I am

.'"

is. 58:8-9
As I sat there on the back of someones car who had pulled over to help, waiting for the ambulance to arrive, those were some of the first verses that came to mind. The accident played over and over again in my mind and looking at my car I couldn't believe that I was alive, but not just alive, that I was without injury. I spent the next 4 hours laying in an ER bed going over and over all the things that I was grateful for and overwhelmed with how carefully my God had orchestrated events to protect me.
--Grateful that I hadn't been talking on the phone or looking at my GPS at the time. I had been doing both just a few minutes before the accident. But after talking for a few minutes my friend had to go, and though I had been looking at my GPS alot (I was not at all familiar with the area I was headed to) I had just turned onto a new highway that I knew I was going to be on for a long time, so I wasn't worried about checking my map. If I had been distracted at all my reaction time would have been much slower, and I probably would have completely T-boned him instead of being able to turn away from him and minimize the impact. My God went before me and was with me...
--Grateful that I was headed to a portrait session and not a wedding. I've worried so much about getting in a terrible accident on my way to shoot a wedding and all the chaos that would cause, so I am SO grateful that I was on my way to a portrait session (which can be rescheduled) and not a wedding. My God went before me and was with me...
--Grateful for the extra goodbye kisses I had laughingly given my husband before saying goodbye, and the "I love you's" that we always exchange before either of us leaves. Obviously I was going to see him again, but as I lay there thinking about him and waiting the two hours it took for him to get to me (actually, it was a two hour drive, but he made preeeetty good time;) I was thinking "what if I had died?" and was so very very glad that I'd left him with "I love you" and a kiss. My God went before me and was with me...
--Grateful that I wasn't pregnant. A few weeks ago I had gotten my hopes up that maybe I was, and shed a few tears when I realized I wasn't. I cried again on saturday as I realized how I probably could/would have miscarried if I'd been pregnant while in that accident. Overwhelmed with how God ALWAYS knows best, and has my best in mind. My God went before me and was with me...
--Grateful for my mercedes (that is now totalled) but is apparently one of the safest cars on the road, and several people have told me that probably had a lot to do with how little I was injured despite the seriousness of the accident. I bought the car 11 months ago, a car that I wouldn't normally be able to afford, and I'm thankful for the safety that God provided months ahead of time in that car. My God went before me and was with me...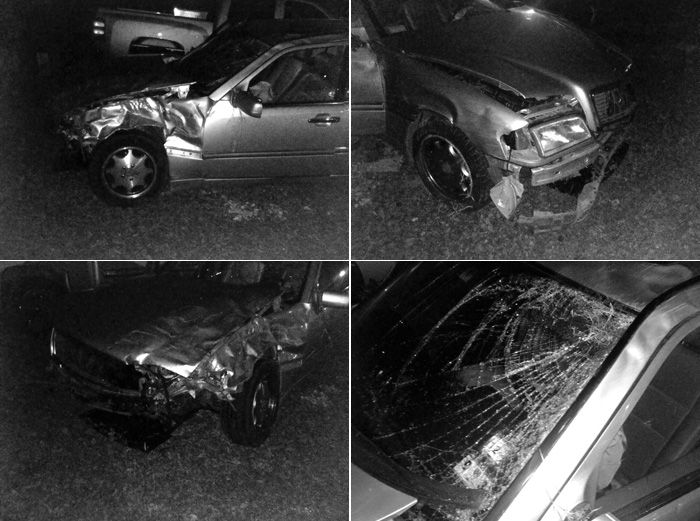 I walked away with bruised knees & arms, a sore neck, and a tiny cut on my elbow. "The Lord is good to all and His tender mercies are over all His works." God did not owe it to me to keep me from injury or death, and had I been hurt or died in the accident that wouldn't have changed how perfectly kind and good my God is. Had I died I would have spent Christmas in HIS presence. (joy!) But I'm grateful all the same that He protected me from injury and excited to know for certain that He still has plans for me here!
Much Love,
Jessica Shae