"What is it really like to be engaged? Asked Anne curiously?
Well that all depends on who you're engaged to, answered Diana, it's perfectly lovely to be engaged to Fred...
but I think it would be simply horrid to be engaged to anyone else."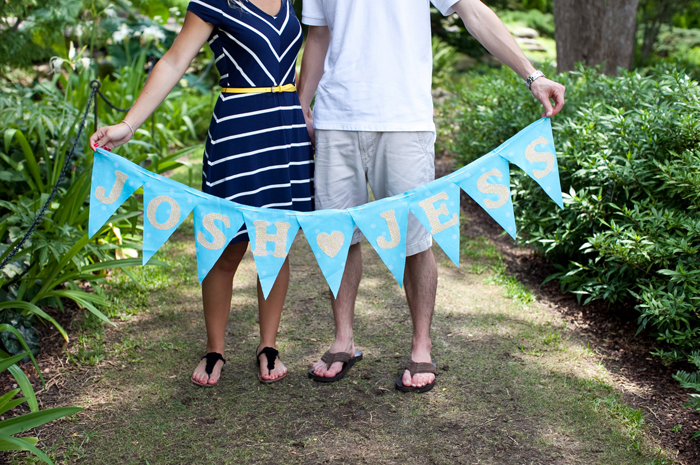 This is the story that I've waited so long to tell, and now the day is here and I've been having the hardest time actually sitting down to tell it. How I could ever do justice to not only the story of how The Boy gave me the surprise of a lifetime when he proposed but also the story of the last year and a half that has been the grandest adventure with him... is overwhelming. But no matter how inadequate I feel to say the right words and explain just how happy we are and how overwhelmed I am by the riches of God's goodness towards me, I'll do my best to give you all a little peek inside all of it.
This is probably going to be wordy, because I'm a wordy person, and it's my story, and I want to remember every detail... so there. :) (edited to add: actually, it's ridiculously long. But you only get engaged once...right?)
First off you must know that I love surprising people, and I love being surprised. (Mayyybe surprises are my love language?? Apparently Mr. Chapman forgot that one.) But seriously, I'm the kid that
wouldn't
ever touch my wrapped Christmas presents under the tree until it was time to open them Christmas morning because heeelllooo I might figure out what it was if I picked it up
and that would ruin the surprise
! The flip side of that is that it's extremely difficult to surprise me. Something about being the oldest child, always having to keep tabs on what's going on, and just generally having a knack for putting two and two together meant that all growing up it's been difficult for my family to slip anything by me. But if there was one thing that I knew for certain that I wanted when it came to a proposal it was that I WANTED TO BE SURPRISED. And quite honestly...I didn't think it would happen.
Monday, June 25th, I got a call from a friend and wedding photographer in the DFW area because she was wanting to refer a proposal shoot to me. She'd had a guy contact her about shooting his proposal to his girlfriend but since she'd just had a baby she wasn't feeling up to it. I was super excited because I'd been wanting to shoot a proposal for a while now, and I had the date open so I said yes and she forwarded all the information about it to me. Right after I got off the phone with Hope, The Boy and I exchanged these txts:
Jessica:
"I'm shooting a proposal this saturday! :)"
The Boy: "Awesome, dawsome."
The Boy: "Try not to cry." (<---
Haha ;)
I exchanged several emails with Hope about the shoot, she sent me the guys (Andrew's) number and told me that he wasn't very good at answering the phone, but if I txt him he'd probably respond if I had any questions. The proposal was set for 1:30 Saturday afternoon, at the Dallas Arboretum. The night before the proposal my entire family + The Boy went to a rangers game. While I was at the game the Andrew txt me and told me that he needed to move the proposal time from 1:30 to 2:30. A few minutes later I remember off-handedly asking The Boy if he was coming over the next day and reminding him that I had a shoot but that I was free afterwards. A few minutes before I got home that night he txt me...
The Boy:
"U awake?"
Jessica:
"Yes, but not home."
The Boy:
"Would you like to meet me for a late lunch tomorrow after your shoot? I have a little date idea."
Jessica:
"I'd love to :) But the shoot got moved to 2:30 and it's in Dallas so I won't be done until about 3:30. Could it be dinner? Where were you wanting to meet?"
The Boy:
"Oh dang. Ok early dinner I guess. I remembered it was in Dallas I just wanted to do it before too late so we can hang with the fam before Ben leaves."
Jessica:
"Ok :) Where shall I meet you?"
The Boy:
"Not tellin'"
The Boy:
"I'll pick you up I think"
Jessica:
"Ok :)"
Jessica:
"Sounds like fun to me :)"
The Boy made about half of our dates "surprises" and wouldn't tell me where we were going or what we were doing until we got there, so the fact that this was a surprise didn't make me suspicious at all. Saturday morning it crossed my mind that today might be "the day" but I quickly ruled it out because of several factors. First of all, I honestly didn't think that he'd officially asked my dad's permission to marry me, and I was sure he hadn't bought a ring yet. But the main reason that I was sure it wasn't going to happen that day was because when I mentioned to my mom that The Boy was taking me out that night she got really upset with me because it was my brothers last night home for the rest of the summer and she wanted to have a family dinner. All morning long she kind of nagged me about it, asking if we really had to go that night, to the point where I almost called The Boy and asked if we could just go another time because my mom was so upset.
On the way to the arboretum I called one of my best friends and we spent about half the conversation talking about when we thought he was going to propose and how I didn't think it would be anytime soon, but that I was wondering when he was going to do it because we had already picked a "tentative" wedding date and it was coming raaather quickly. (She knew the entire time that I was driving to my proposal at that very moment, but didn't let on even a teency bit! :)
I got there, it was hot as blue blazes (seriously about 100 degrees outside and the humidity was off the charts) and I hurried inside to get set up at the pre-arranged location. I ended up getting a little bit lost trying to find the exact little garden he wanted to propose in, and started to stress out because it was getting close to 2:30. I finally rounded the corner and could see the area that I knew I was headed towards in the distance. As I got closer I could see that two people were standing on the other side of a group of trees and I panic'd thinking that they were already there, he was proposing, and I was missing it. I started to walk reaaaaallly fast at that point, almost running and I come around the corner of a bunch of bushes to see, not the couple I was about to be shooting, but... The Boy.
In that split second I was so confused. I honestly had no suspicions that this might be MY proposal so seeing him there completely threw me off. I remember thinking
"What is he doing here? Is he picking me up for our date early? OHMYGOODNESShe'sgonnapropose!"
all in the space of about 1.5 seconds. I stood there looking at him dumbly for another 5 seconds as it all sunk in, and then gave a weak little bewildered wave as a ridiculously big smile spread across my face and I started walking towards him.
I had this moment of panic as I realized that I had all of my camera equipment slung over my shoulders and he
obviously
couldn't propose to me with my camera on my shoulder!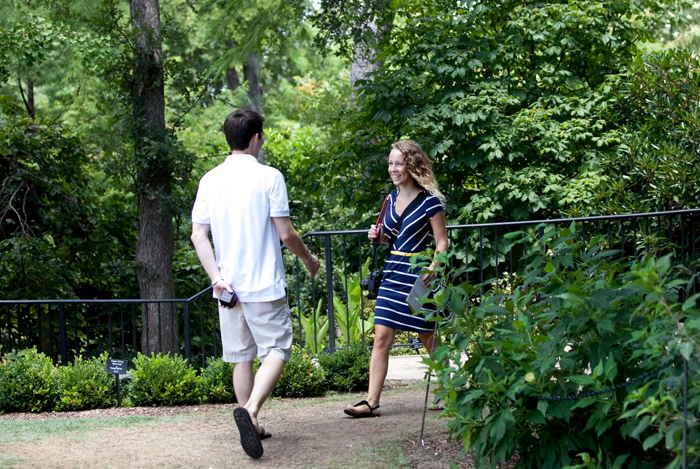 When I finally reached him he smiled and hugged me, and gently lifted my camera and shootsac off my shoulders as he said:
"You won't be needing these today."
At this point I was hyperventilating and was shaking so badly I could hardly walk straight and still hadn't said a word to him. I just stared and smiled :)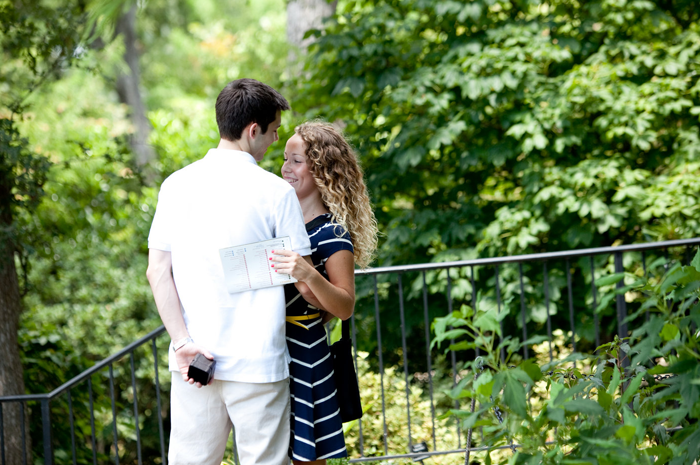 He walked me out into the middle of a secluded little grassy area, surrounded by trees and flowers and overlooking the lake that we had a picnic at a few months back. The first question he asked me was
"Do you know what today is?"
(Insert another moment of panicing that I've forgotten an important anniversary) I said
"No, have I forgotten something?"
He replied,
"Oh no, I just wondered if you knew the date."
(insert more scrambling in my brain to even just come up with the date, with absolutely no success. I don't think I would have been able to tell you my birthdate at that point.) then continuing he said,
"It's June 30th, but more importantly it's a day you won't ever forget."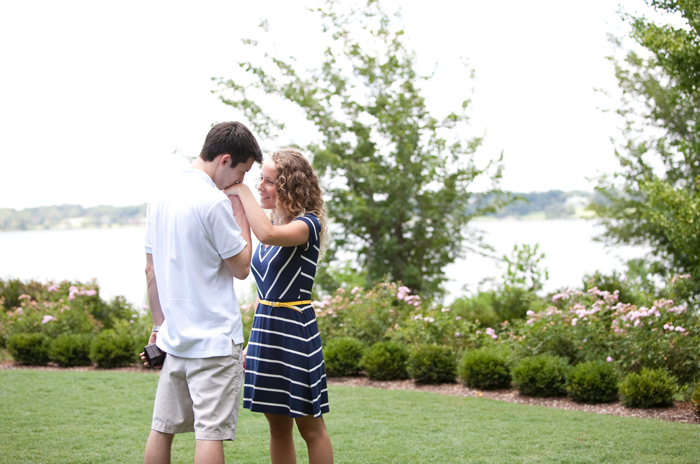 The next thing I knew he was down on one knee asking me to marry him and holding out the most gorgeously huge better-I-could-have-ever-dreamed ring. I said yes, though he says he hardly remembers my answer because he was mostly thinking about the fact that I had stopped breathing.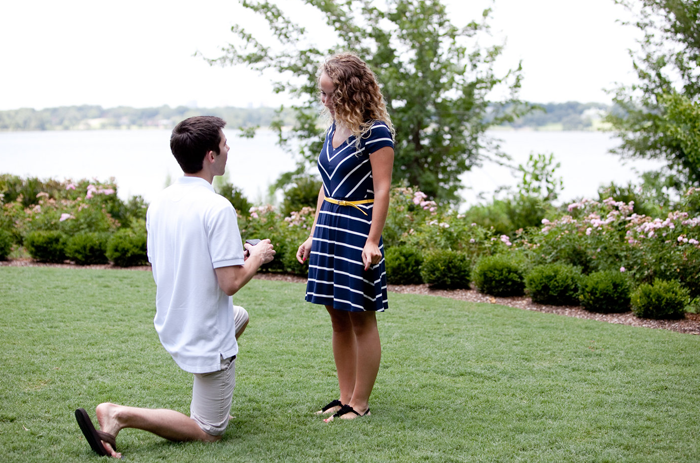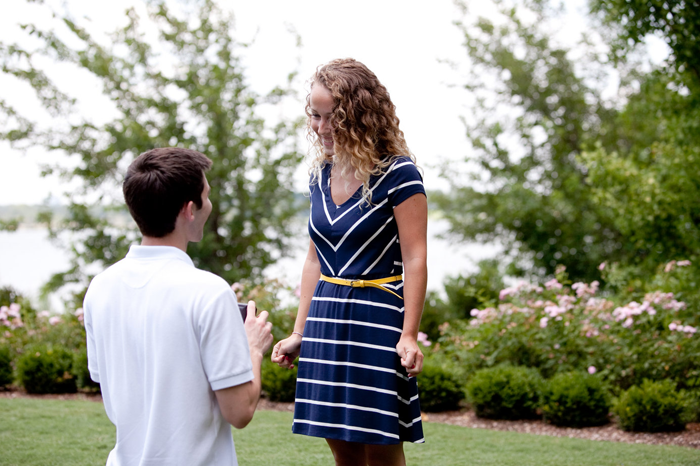 Literally 2 & 1/2 minutes earlier I had been stressed about being late to shooting someone else's proposal and here I was officially engaged to my favorite person in the whole world.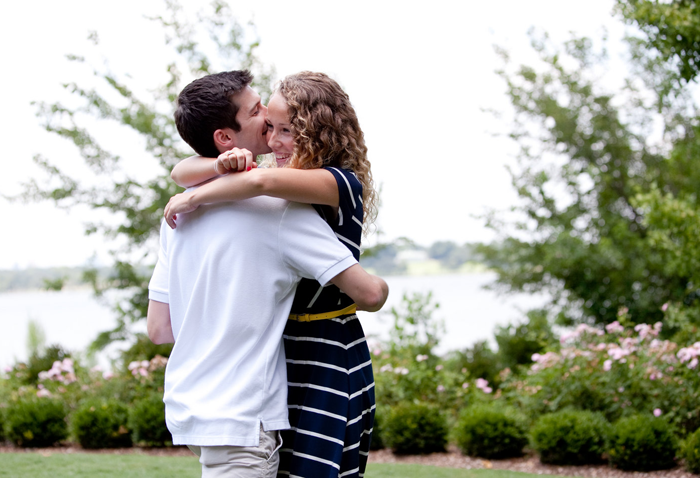 I hugged him. Then hugged him again.
Laughed happily (I know, all laughter is happy, right? Well this was the extra happy kind of laugh).
Then continued to hug him because I was pretty sure that if I let go I would fall over I was shaking so badly.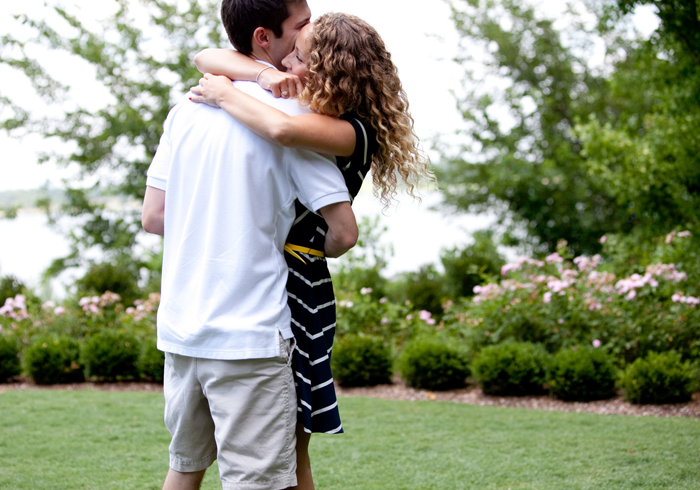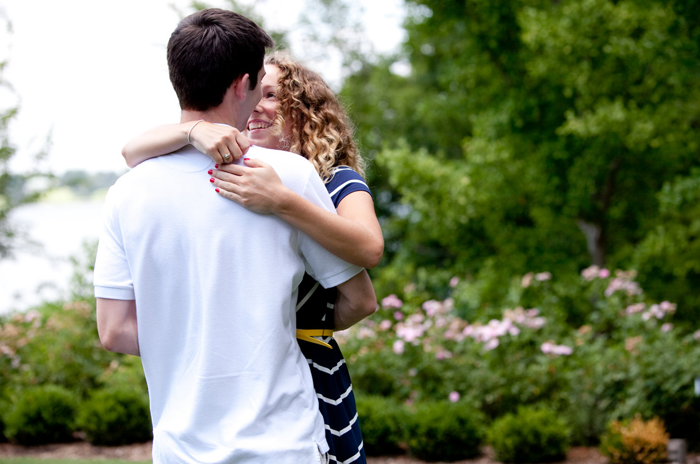 After much hugging, a few forehead kisses, hiding my face in his shoulder, and a fist pump or two for a random passer by who let out a cheer for us, the Boy turned around and led me over to the second part of the proposal: a picnic he'd prepared for us.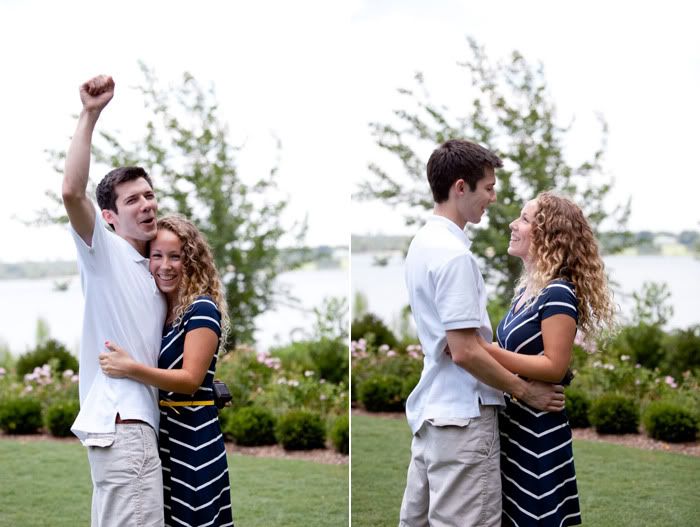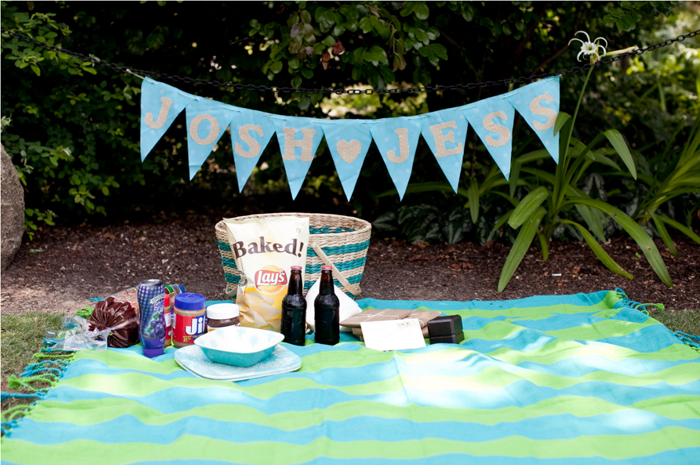 We've picnic'd together alot over the past year, and it's quickly become our favorite kind of date. He replicated our first picnic that we had last September: sandwiches, baked lays, IBC Rootbeer, and strawberries with nutella. But beyond that he'd bought a new picnic basket and blanket, new picnic dishes that I'd seen at Target a few months ago and gushed over, and hand made the most adorable banner that hung above the picnic.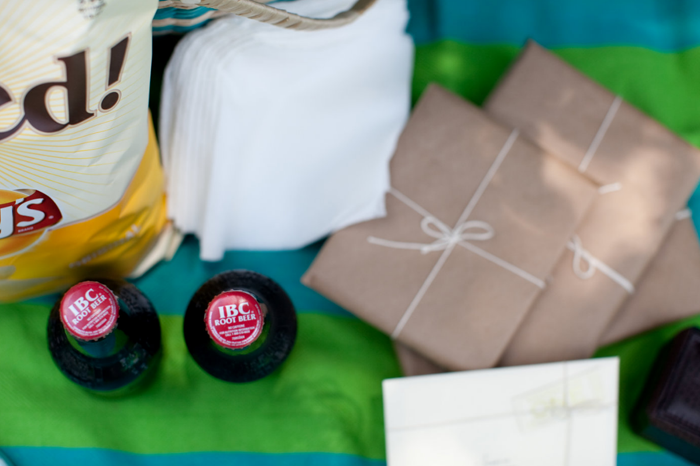 We hugged a few more times after he officially put the ring on my finger. (He tried to put it on the wrong hand the first time, but as he said in his defense
"I was just trying to get in on there, I wanted it on your hand!"
)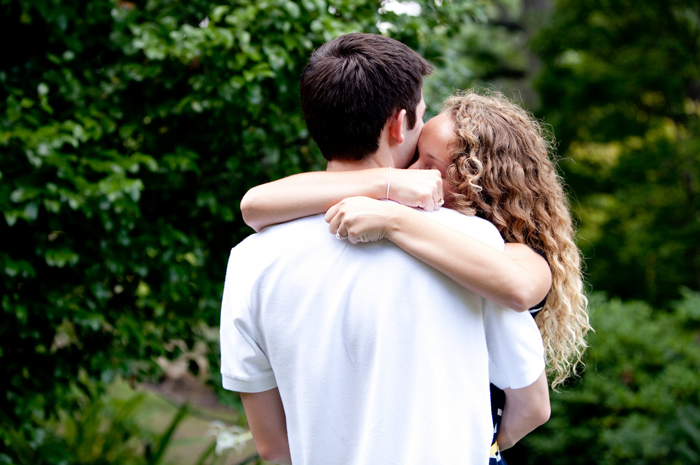 I really couldn't get over the ring. I was overwhelmed with how absolutely gorgeous and perfect it was.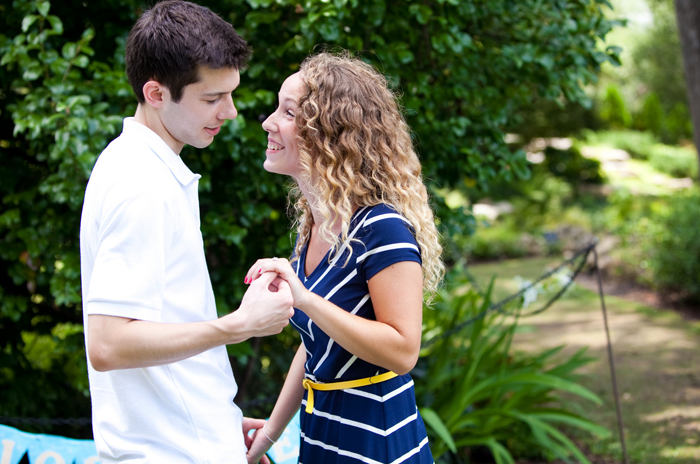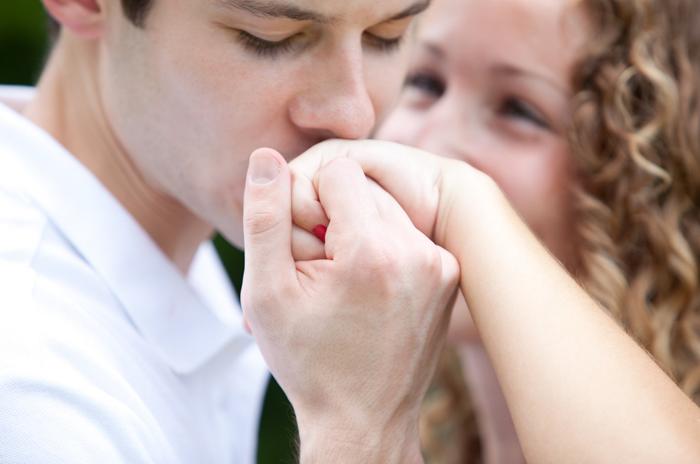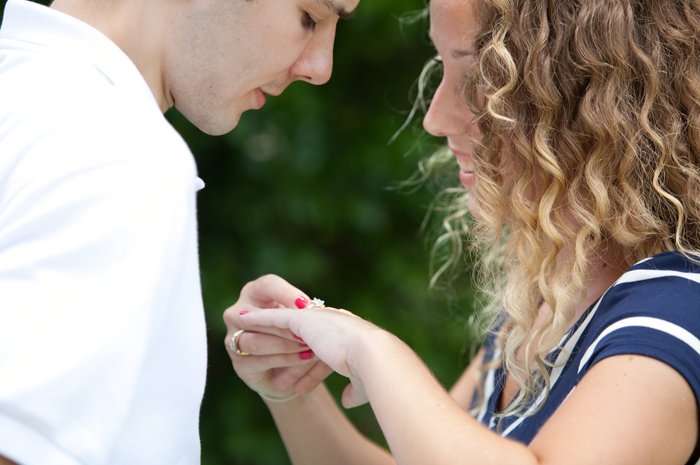 As if the ring + Picnic + handsomestboyintheworld asking me to be his for foreeeever wasn't enough, we sat down and the first thing he did was hand me an 8 page letter, and 3 gifts.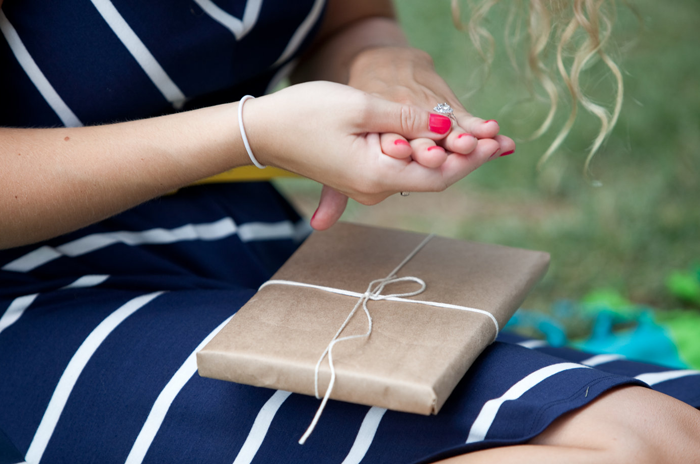 I have to mention that this whole time I was sweating more than I've probably ever sweat my whole entire life put together. Soooo attractive, right? But between the heat and the crazy amount of adrenaline I had running through me I felt like I'd just gotten out of the shower. I was a complete mess. A giddy, happy, storybook princess, sweaty mess. (Princess's sweat, okay?!) Also, I was so shaky and excited that when The (dearest) Boy (in the whole world) asked if I was ready to eat I told him that I probably wouldn't be eating for about 3 days if my stomach kept up it's happy little dance.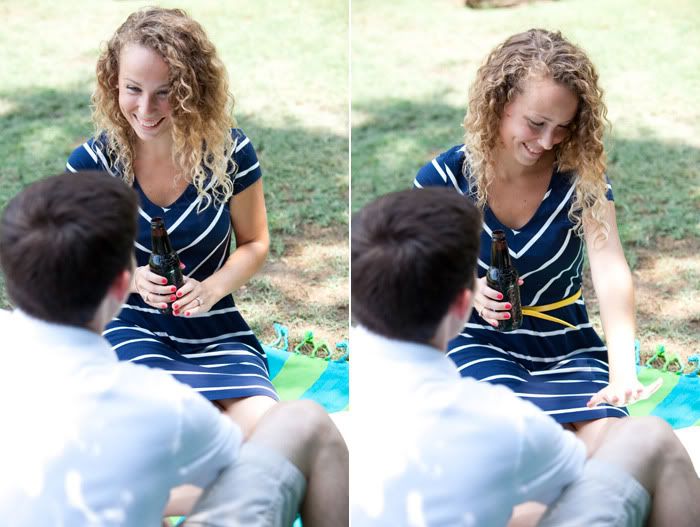 So we took pictures instead :) Hope had been there the whole time snapping away in the background and stuck around for a little while longer as we wandered through the gardens taking pictures.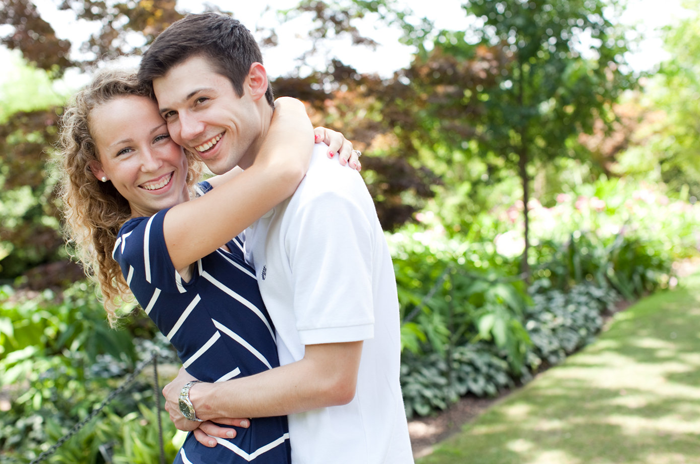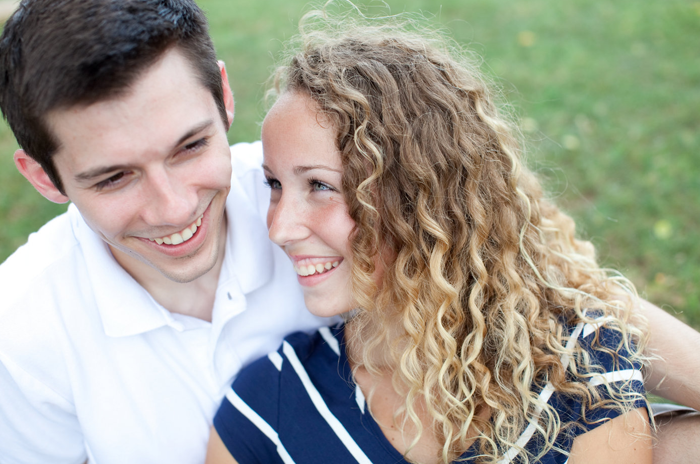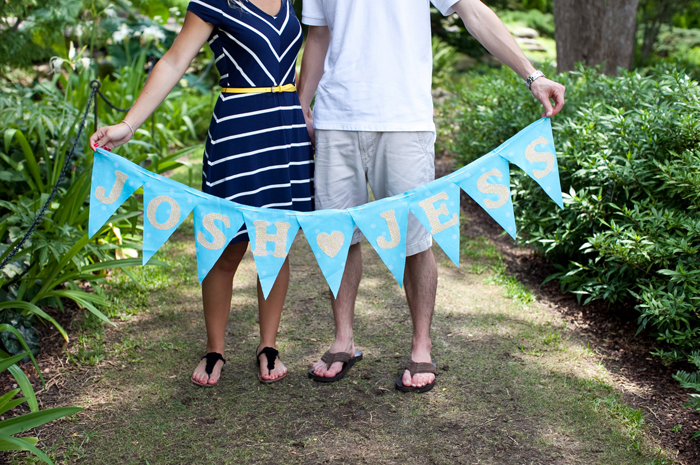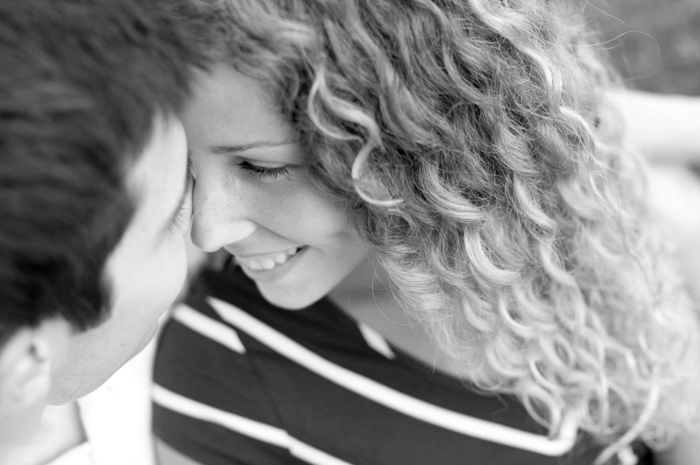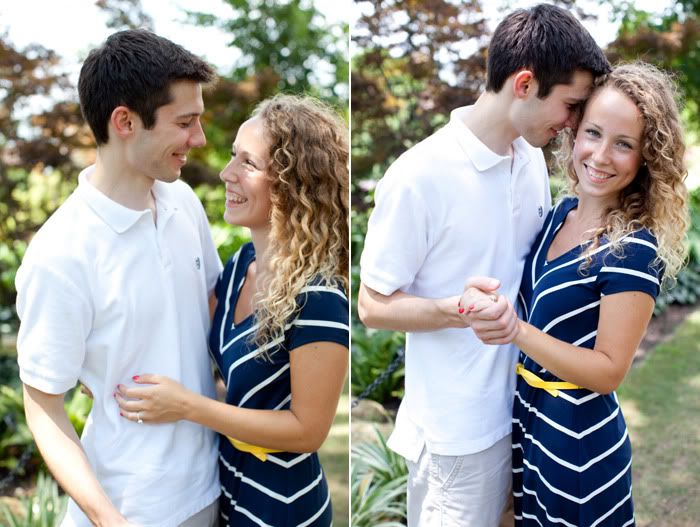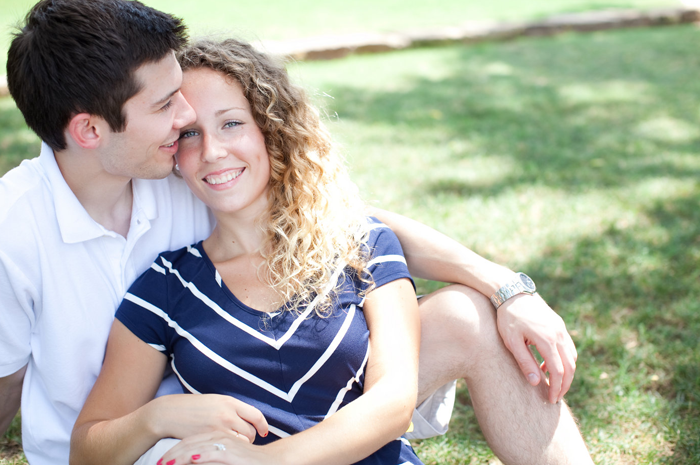 A little story about the ring. The Boy asked me if I wanted to go ring shopping with him a while back to just look at rings, and I declined, saying that I trusted his judgement and wanted it to be a surprise. He asked me to at least show him a few pictures of styles that I liked so I rounded up a few and sent them his way. But he picked this amazing thing all by himself. And honestly crossmyhearthopetodie I couldn't have picked out a better one myself. I adoooore it :)
Happy happy happy oh-so-happy, I love him and we get to spend the rest of our lives together plus also he's my best friend. BAM. How awesome is that?!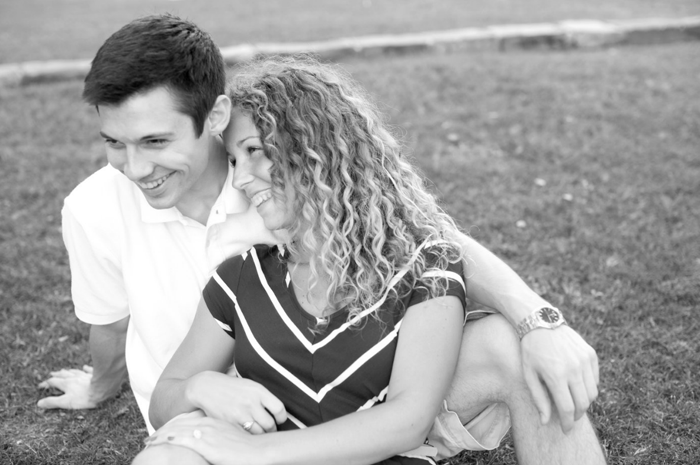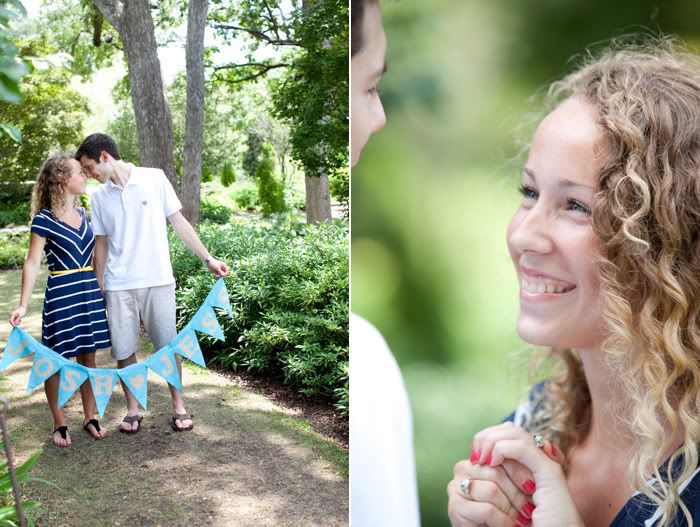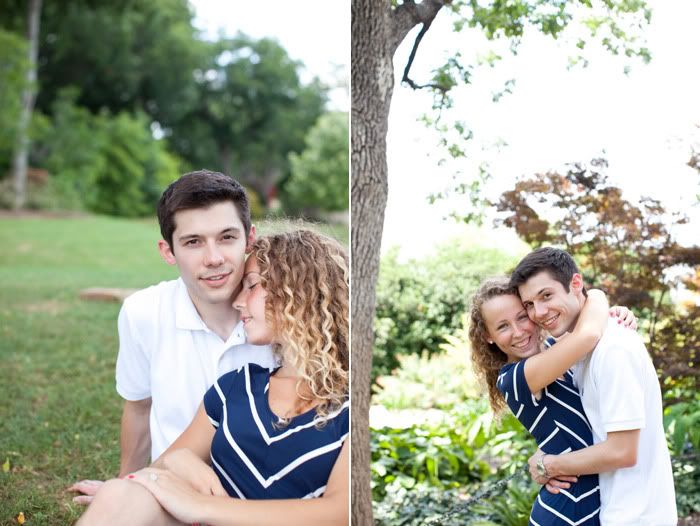 And I'll end with one of my favorites :)
I've had two weeks to think through the day over and over and remember each little detail and it never ceases to amaze me how perfectly it all fell together. Not because I deserved it, or even because it was necessary for it all to have been perfect for me to have the happiest memories of that day, but because out of the riches of His goodness God blessed me with a day that was better than anything I'd ever been able to dream up.
The Boy was able to surprise me (!!!) (And somehow my entire family managed to keep it a secret even though all of them had know for two whole weeks when he was going to propose, because he'd not only asked my parents permission to marry me, but also talked to my siblings and asked their permission as well--amazing, right?), my nails were painted, I was having a good hair day, there was a photographer there to capture it all, but most importantly I'm going to marry my best friend and favorite person in the whole world in exactly 99 days.
October 20th, 2012 I'll officially be Mrs "The Boy" ;)
Yes, that's crazy soon, but life is short and why not just go ahead and plan a wedding in a little over 3 months?! So between wedding planning, hosting the summer internship next week, and a 3 week family vacation right after that, I'll be a busy little bee over the next few months. Which means that I'll be cutting back on blogging in order to make sure that I don't become bridezilla ;) BUT, amongst normal wedding/engagement posts I will be blogging our entire "story" over the next few weeks and months, so you can check back for that.
Much Love, (and oh so much happiness right now)
Jessica Shae
p.s. a HUGE thanks to Hope for helping with the co-ordinating of it all and for being there to take pictures, I love every single one of them!