This will be long.
Because I couldn't sort down the pictures to just a few, and because I had a lovely trip and I want to tell you all about it. And besides being where I post all my latest work, this is also kind of like my online journal + scrapbook, so bear with me :)

I left two Wednesday's ago for Chicago to visit friends and to see one of the only cities I've ever been to that I absolutely adore. As most of you know I'm a country girl through and through and I'd take open fields and big sky almost any day over big noisy dirty city. BUT there are a few cities that hold special places in my heart, and Chi-town is one of them. I love all the lights, and pretty store-fronts. I love all the people out and about, businessmen/women, hippies, artists, and everyone in-between.
I love Navy Pier, and The Bean, and all the other tourist-y things you can see there.

I was staying about 30 minutes outside of Chicago with a friend but I was determined to make it downtown while I was there. So even though the weather didn't co-operate at alllll, I got up super early one morning and rode the train (my favorite mode of transportation!) to meet two friends who decided to brave the freezing cold with me for a day ;)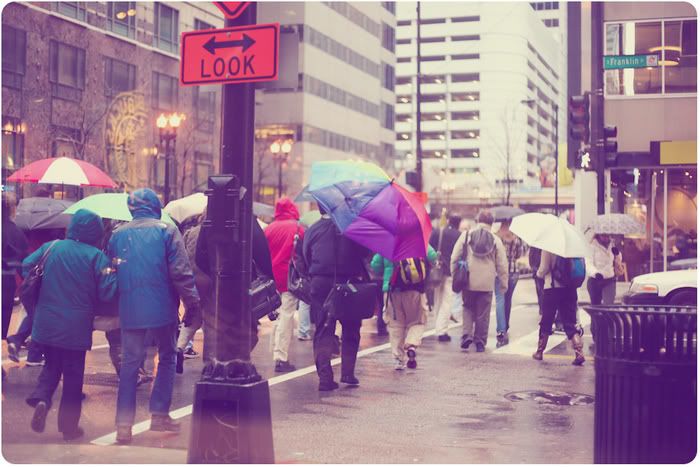 It really was the nastiest weather all day. Pouring rain and a high of about 42 degrees = kind of miserable. But it was an adventure none-the-less :)


No matter how many times I go, I will always take a bean picture despite how cliche it may be. I'm a tourist at heart - so sue me ;)
This is one of my favorite ones that I've ever taken I have to admit. The rain+fog+mist all over everything gave it a cool feeling :)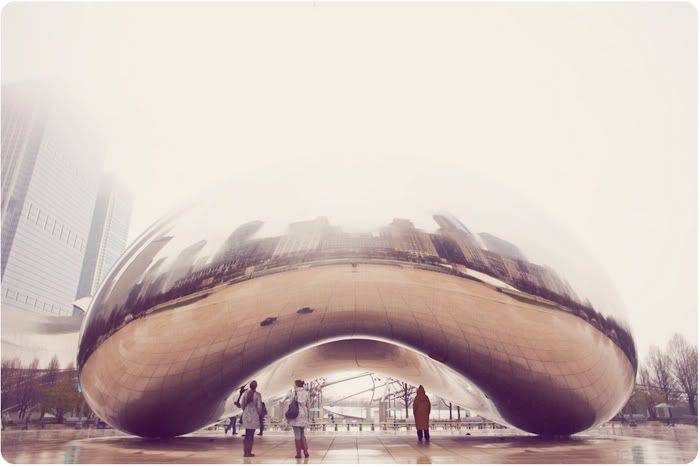 My two darling friends, Julia + Amy. I met them both in Chicago last year when I was shooting Jason & Elizabeths and Josh & Kates weddings, and we've kept up ever since!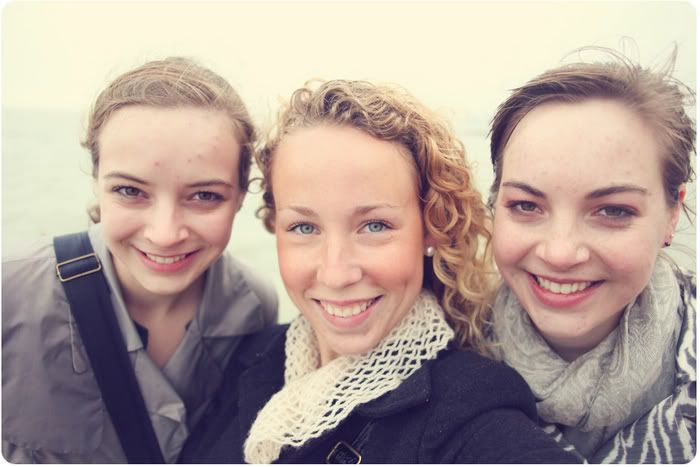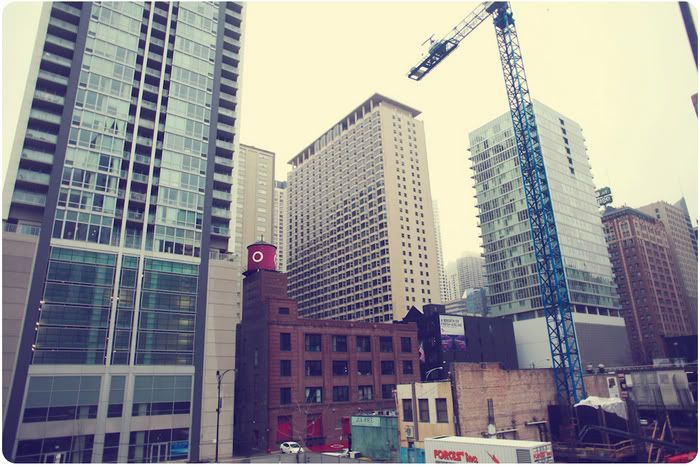 Love love LOVE this city.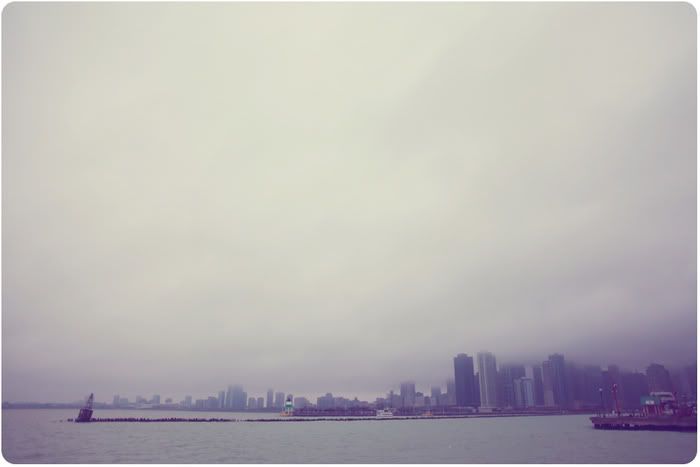 I got yelled at for taking this picture while we were exploring through the library...but I loved these vintage postcards, pictures, and ads.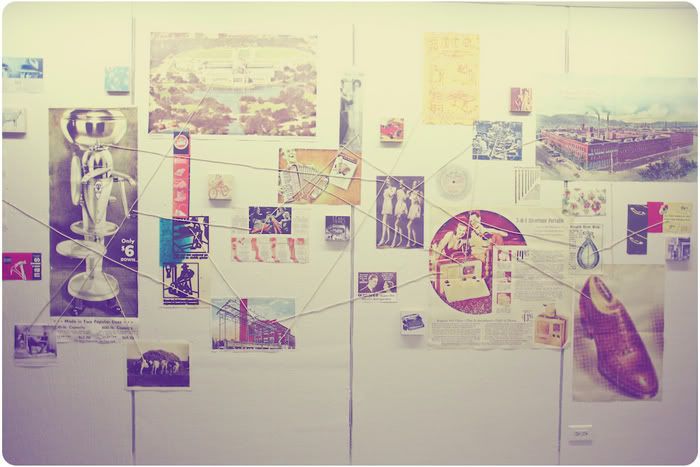 Glad the memory's documented...even if the guy who took out picture wasn't quite able to get our faces in focus ;) It's the thought that counts.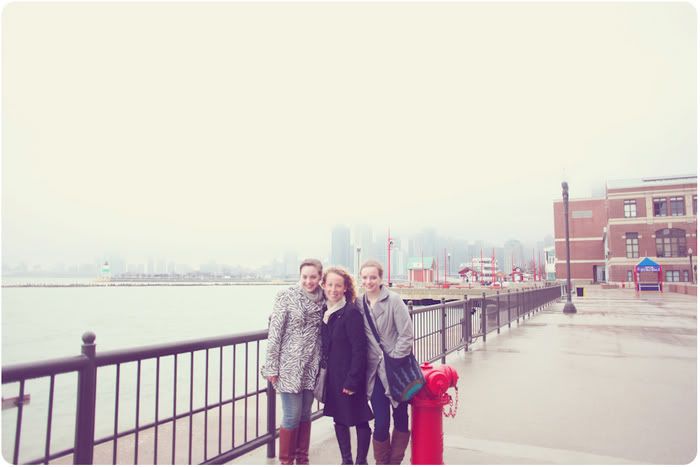 I got to go out to dinner at Cheesecake factory with a bunch of my old co-workers and housemates from when I lived and worked in Chicago a few years back, I love these girls so much!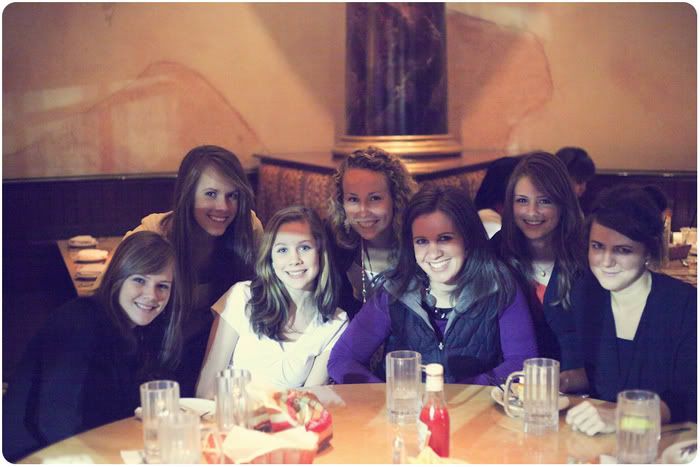 'manda jean, my lovely hostess and bff ;)
She's a favorite for sure.

And THEN.
After my quickie two day trip to chicago, it was time to go to Canada!
I realize that it's probably lame how excited I was. But that's alright. I'm ok with a little bit of lame-ness. Because I really really was excited. I was going to get to use my passport for heavens sake. And while Canada isn't a very "foreign" foreign country, it was still a different country, and I was planning on enjoying every minute of the first of my international travels ;)
Airplane cloud pictures are also kind of lame, everyone has them, and they all look the same. But I never get tired of taking them. Because really, how awesome are they!? They look so much cooler from above than they do below ;)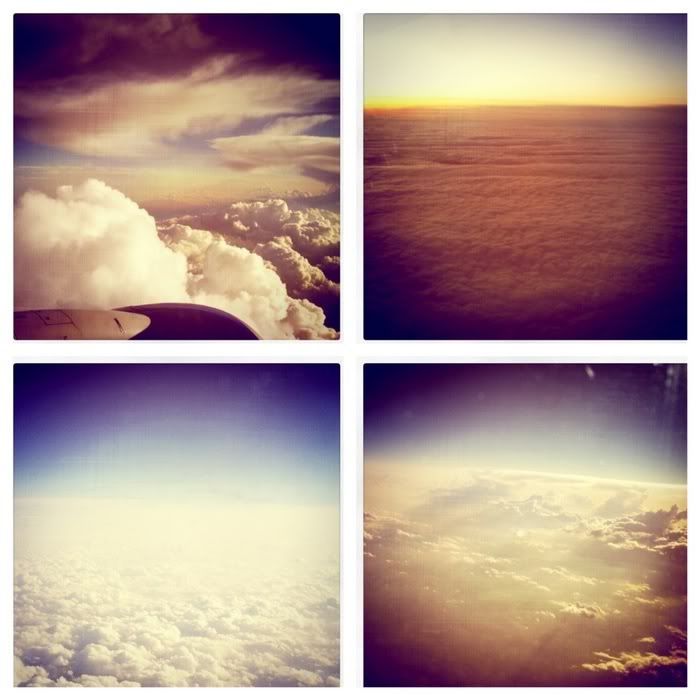 Rain was pretty much the theme of my trip, it poured rain every single day I was in Chicago and Canada, so when the sun came peeking out for just a few minutes Saturday afternoon I couldn't help but snap this picture to remember the moment.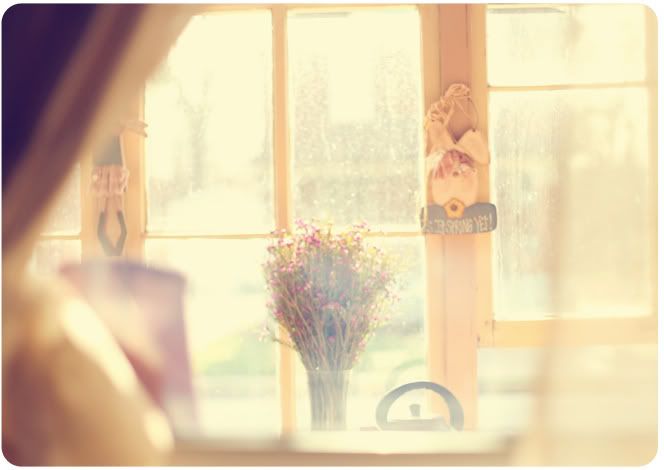 Ok, so The Falls are cool in pictures.
But they're absolutely breathe-taking in person.
You should go see for yourself ;)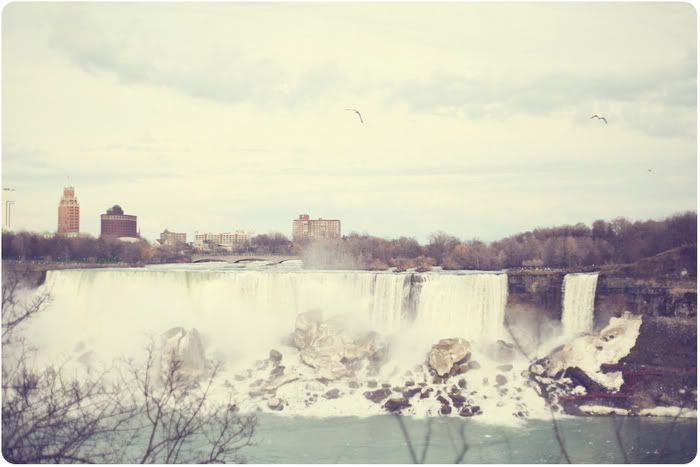 Proof: I was here! ;)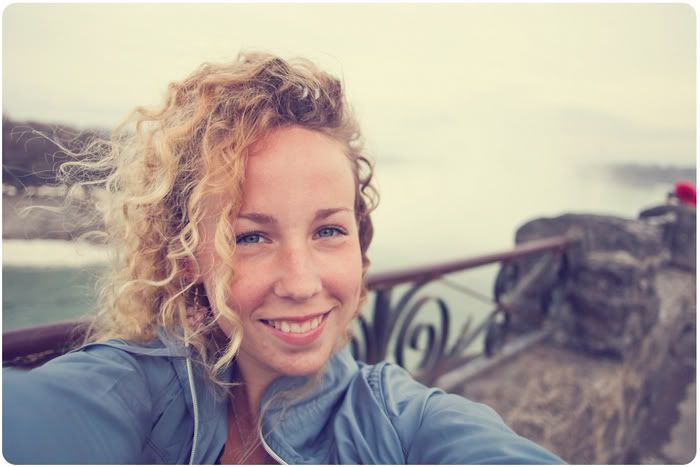 As I walked along the edge of the Falls, stunned with the majesty and power of it all, my thoughts just kept running along the lines of:
"Oh Lord my God, when I in awesome wonder //
Consider all, the works Thy hands have made..."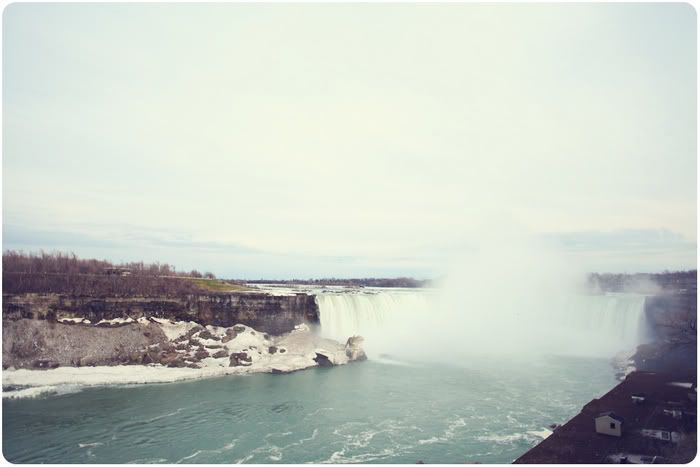 My housemates and exploring buddies for the weekend...you can just baaarely make out the falls behind us through all the mist.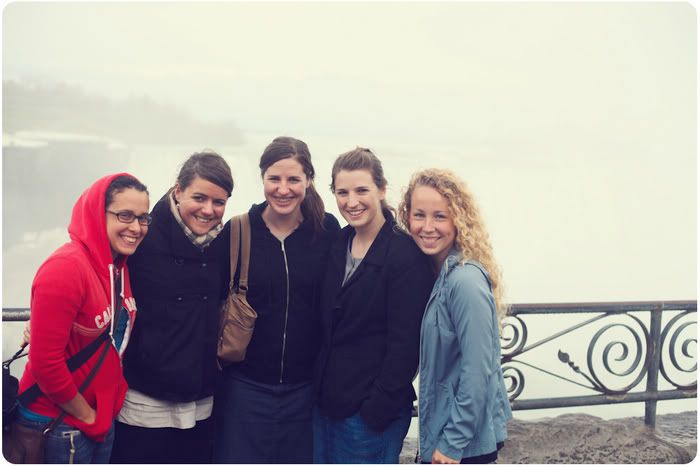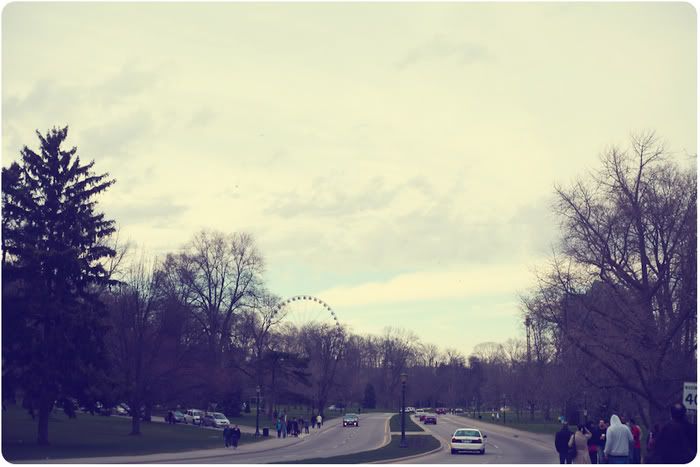 So, the whole time I was there I was on the look-out for "foreign-ness" as a reminder that I was in another country. And besides the fact that everyone said "ay"and speed-limit signs were in kilometers, not miles, (SO confusing when you're driving) there weren't a whole lot of differences.
Except for the bagged milk. I'm not even kidding, this one totally threw me for a loop. They buy their milk, IN BAGS. Can someone please explain why???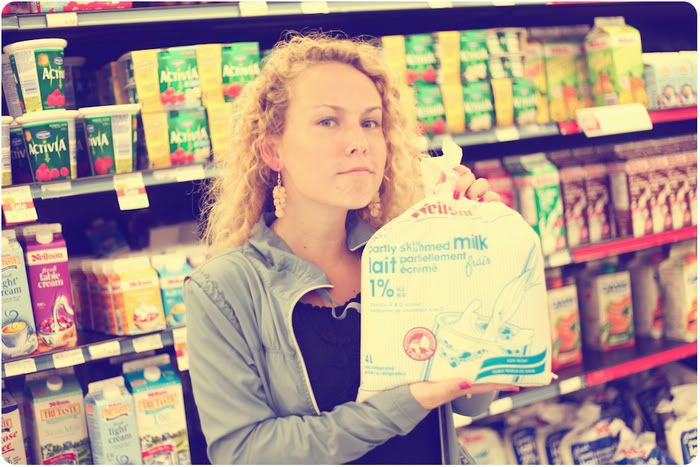 I had to try out some of the local fare of course, but what's not pictures is the poutine I had.
Poutine, for those of you who don't know what that is, is french fries and cheese curds, drowned in brown gravy. I'm sorry Canada, it was gross. I don't even know how such a thing ever came into being.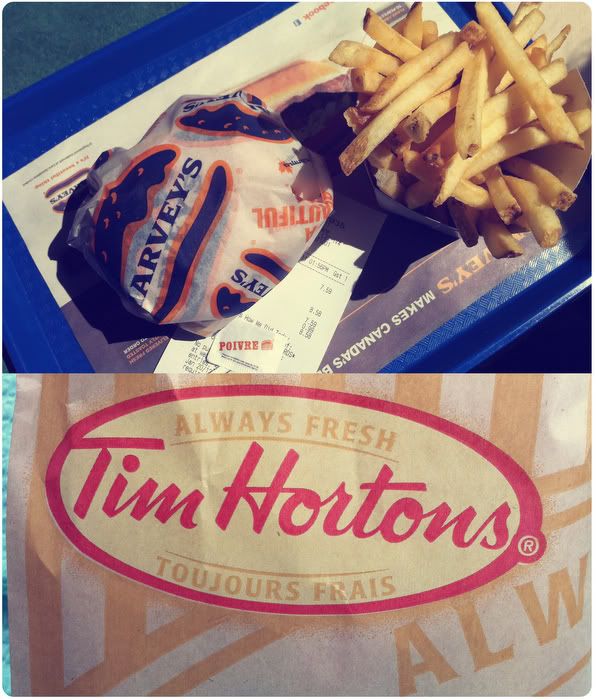 Ahhhh, the whole reason I got to go on the trip! My adorable petite curly-haired Jessica "twin" got married - and I got to take pictures :) And despite the fact that it poured rain all day, it was a beautiful wonderful wedding.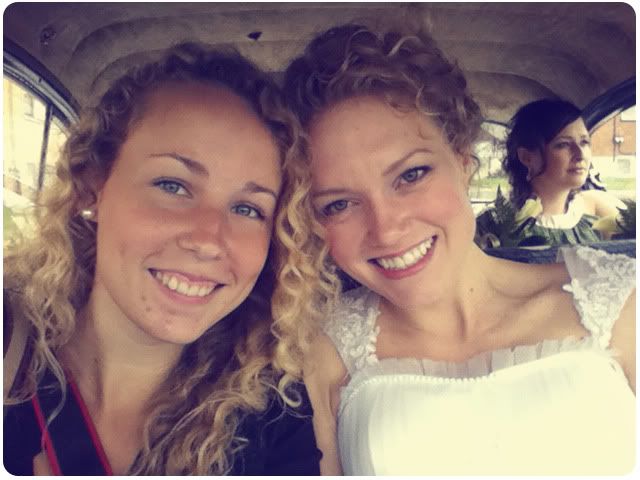 I got to go hiking down in the gorge my last day there before I had to head to the airport, it was so gorgeous down there!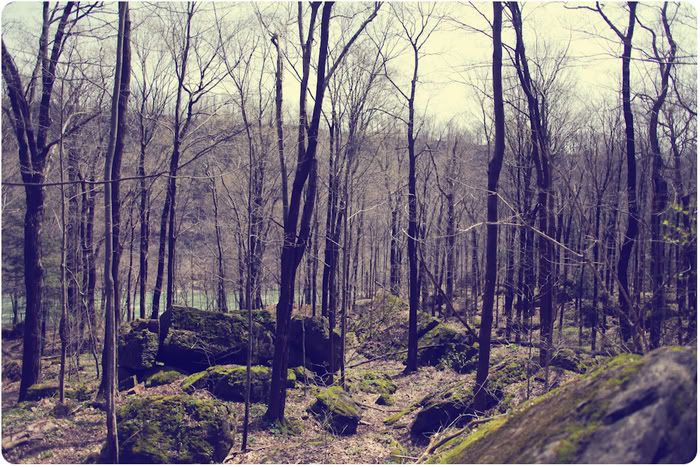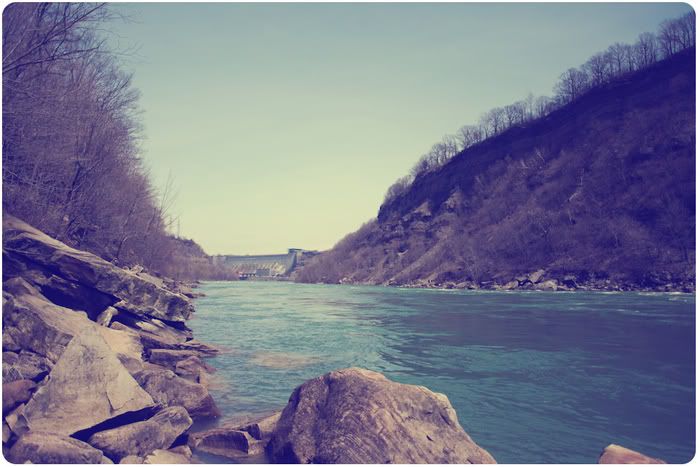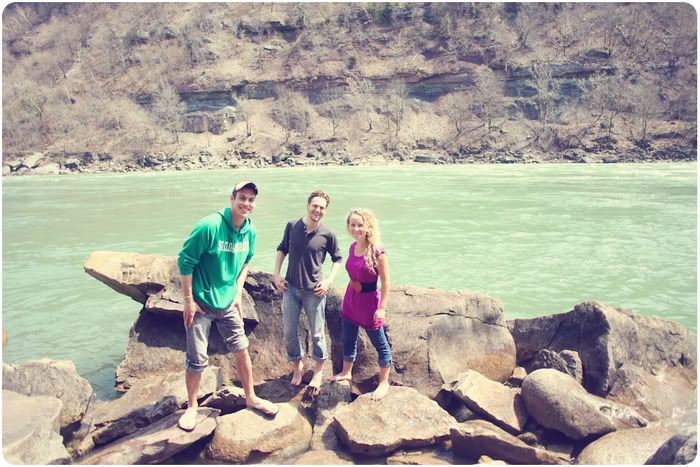 I inspired my new friend Mark to buy knock-off ray-bans :) So we had to take a picture of course.



So despite the fact that I had to go without a phone for 4 & 1/2 days (one of the hardest things everrr!) and the fact that they didn't even stamp my passport when I went across the border (I thought about asking for at least a smiley face sticker or something!) AND despite the fact Canada doesn't serve Dr. Pepper (boo) my first international trip was a success.
Now I need to book a wedding in Europe somewhere.... ;)
Much Love.
Jessica Shae